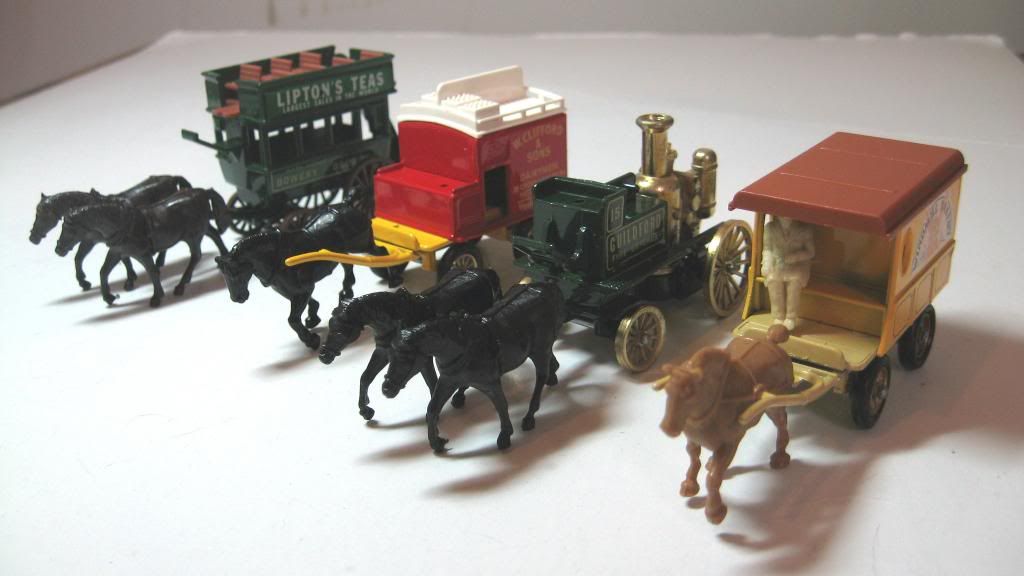 28mm WarGaming With LLEDO
What you as a 28mm wargamer need to know is first that Lledo is a toy manufacturer and not a scale model maker. All of their vehicles both horse drawn and cars were made to fit a standard sized box. So what does that mean? Well Lledo vehicles fall into two general categories, 20mm(1/72nd) or 28mm or there about. I personally own 4 of the Lledo horse drawn models the Milk Float, Delivery Van, Omnibus and the Fire engine. Some models work perfectly for 28mm others do not.
Omnibus with 28mm Eureka figures.
As you can see the omnibus is
much too small for 28mm use. I suspect the Tram is too small as well.
The Milk Float with 28mm Eureka figure.
The smaller carriages, the Milk Float, Delevery Van and Fire Engine work perfectly for 28mm.
Bare in mind that all the
plastic horses

provided with the carriages are too small and will need to be replaced.
Lledo plastic horse next to 28mm metal horse.

The next thing you have to bare in mind is that Lledo made money from selling the promotional value of ads on the toys, so those nicely printed ads on the carriages are not historically acurate at all. Also remember that there are a limited number of body types, the only thing that changes in a particular vehicle line (omnibus, milk float, etc..) are the ads printed on them.
See same toys different ads.
Below is a series of photos of the carriages upgraded to 28mm.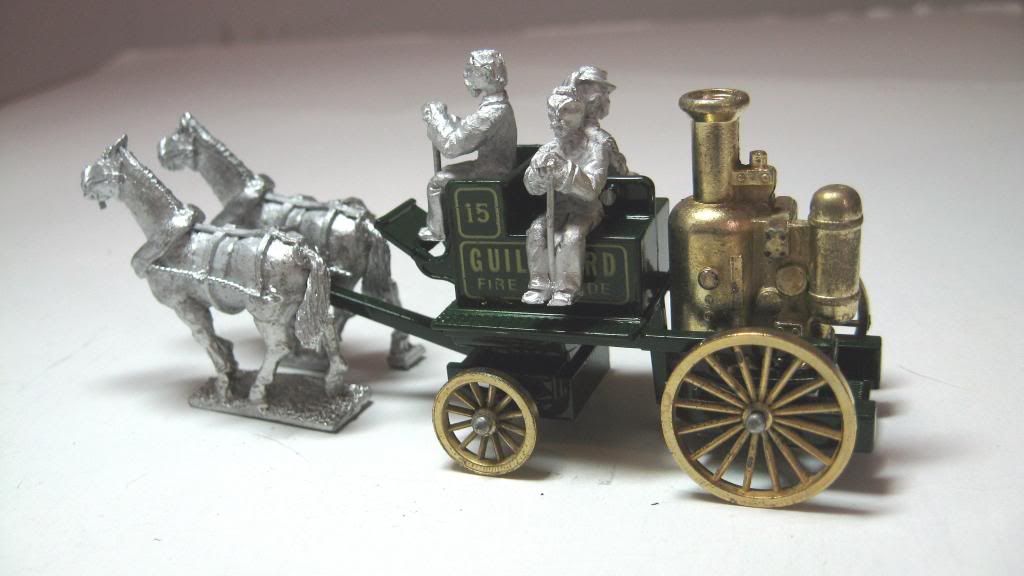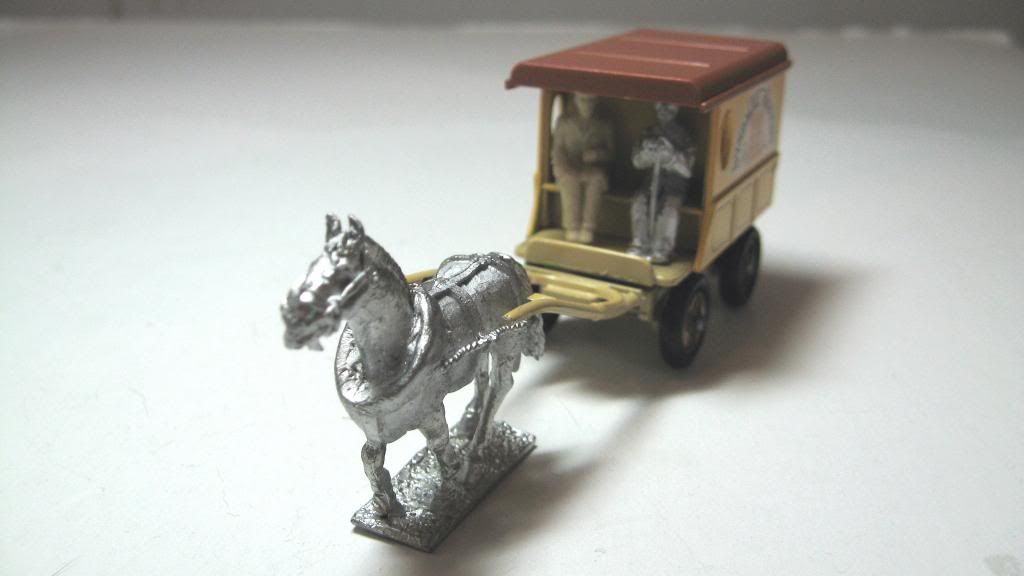 All carriages come with driver figures some of them are 28mm.
A short history taken from Wikipedia.
"Lledo was a brand of die cast toys, founded in 1982 by Matchbox co-founder Jack Odell and Burt Russell. The factory produced diecast vehicles in Enfield, England from 1983 to 1999. Models were later made in China. Lledo was a reversal of Odell's own surname. Lledo set out to specialize in replicating early Matchbox series styles, particularly the Models of Yesteryear range. The first Lledo models appeared on the market in early 1983. These were a horse-drawn tram, a horse-drawn milk float, a horse-drawn delivery van, a stagecoach-like omnibus, and a horse-drawn fire engine. Around April 1983 the first deliveries of the "Days Gone" range of models were shipped, soon after this, in order to further support the range required by the avid collecters, the company turned to the promotions market and started offering the models to companies as a quality, British made vehicle to carry logos for gifts, product launches and special promotions etc. These promotional models were mostly produced in limited edition runs of 500 or 1000 models. Lledo went bankrupt in 1999, and the naming rights and model range were bought by Corgi which continued producing Lledo models in China until 2005, when the remaining models were merged into the Corgi Classics range. "
Guide to LLEDO Horse Drawn Carriages with Model Numbers
DG002 Horse Drawn Milk Float
DG003, LP003, PM108, SP003 Horse Drawn Delivery Van
DG004, LP004 Horse Drawn Omnibus
DG005, LP005, SP005 Shand Mason Horse Drawn Fire Engine
DG011 Horse Drawn Removal Van
DG031 Horse Drawn Brewers Dray
PM115 Horse Drawn Tank Wagon
(A special promotion for Standard Oil it may haven been given out by the company as a gift.)
*DG-Days Gone Bye *LP-Lldeo Promotional *SP-Stevelyn Promotional
This article is from the Plastic Solider Review, a site for 1/72 scale wargamers is packed with scale pictures of the accompanying Lledo plastic figures and other tidbits. Check it out.
Ebay and collector's web stores like this one http://www.lledomodels.com/ seem to be the best place to get them.
Amazon is currently selling the
Shand Mason Horse Drawn Fire Engine you can find it here and here.